Open Heaven 2 April 2018 Wednesday – ACCESSING HIDDEN SECRETS
Open Heaven 2 April 2018 Memorise: The secret of the LORD is with them that fear him; and he will shew them his covenant. Psalm 25:14
Read: Daniel 9:1-3 Open Heaven 2 April 2018
1 In the first year of Darius the son of Ahasuerus, of the seed of the Medes, which was made king over the realm of the Chaldeans;

2 In the first year of his reign I Daniel understood by books the number of the years, whereof the word of the Lord came to Jeremiah the prophet, that he would accomplish seventy years in the desolations of Jerusalem.

3 And I set my face unto the Lord God, to seek by prayer and supplications, with fasting, and sackcloth, and ashes:

Read: Daniel 9:20-22 (KJV)

20 And whiles I was speaking, and praying, and confessing my sin and the sin of my people Israel, and presenting my supplication before the Lord my God for the holy mountain of my God;

21 Yea, whiles I was speaking in prayer, even the man Gabriel, whom I had seen in the vision at the beginning, being caused to fly swiftly, touched me about the time of the evening oblation.

22 And he informed me, and talked with me, and said, O Daniel, I am now come forth to give thee skill and understanding.
Open Heaven 2 April 2018
Bible in one year: Numbers 32:33, Jeremiah 24
Hymnal: Sing hymn 10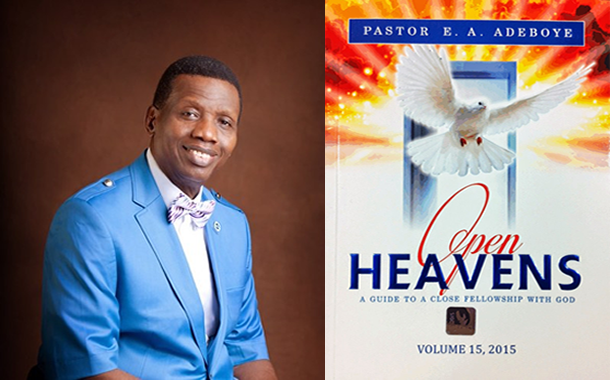 Message – Open Heaven 2 April 2018 Wednesday Daily Devotional
Our Heavenly Father has access to all the secret things of life, and He may choose to share some of these secrets with any of His children. One reason why He does this is to provide information that will help in the fulfilment of our destinies. He also reveals secrets to help us avert pending calamity. Daniel's experience in today's Bible reading reveals some of the God-ordained means of accessing hidden secrets that are vital to success in life. In the place of prayer and studying God's word, Daniel gained access to secrets vital to the liberation of his people. May you receive access to hidden secrets that will accelerate this fulfilment of your destiny today in Jesus' Name. A lady once visited me in the office to complain about her inability to attract a suitor in marriage, and she was advancing in age. The Lord immediately revealed the source of her problem to me, and I told her to go and announce to her family members including her mother that anyone behind her problem would die within seven days, if the person refused to repent. A few days later, this lady came back to see me with her mother, who angrily demanded to know why I sent her daughter to pass a death sentence on her. I answered her that I did not pass a death sentence on her or on anyone else for that matter, but that my Daddy clearly said that anyone behind her daughter's inability to marry would die within seven days unless he or she chose to repent. This elderly woman then asked her daughter to excuse us for a private discussion. She asked me if what I said was the truth, and I told her in clear terms that this person would surely die within seven days unless he or she put an end to the wickedness against this lady. She then confessed to me that her daughter was the only one taking care of her, and so she was afraid that she would be abandoned if her daughter were to get married, which is why she did not want to let her daughter get married. She then immediately promised to let her go. A few weeks later, this lady met a suitor and got married thereafter. I decree that God will release hidden secrets that will accelerate the fulfilment of your destiny today in Jesus' Name.
Open Heaven 2 April 2018
There are two main sources of knowledge: sense and revelation. Many people operate at the level of sensual knowledge and are ignorant of the other. Sensual knowledge is available through formal or informal learning. While sensual knowledge is earthly, revelation knowledge is supernatural and comes only from God. Sensual knowledge is limited, sometimes inaccurate and often leads to uncertainty, but revelation knowledge brings assurance, confidence and peace. Do you have access to revelation knowledge?
Prayer Point – Open Heaven 2 April 2018
Father, please open my eyes to the secret things that will make a difference in my life, and help me make a difference in my community.
Open Heaven 2 April 2018 Wednesday Hymn
Sing hymn 10 – MY FAITH LOOKS UP TO THEE
My faith looks up to Thee,
Thou Lamp of Calvary,
Savior divine!
Now hear me while I pray
Take all my guilt away
Oh, let me from this day
Be wholly Thine!
May Thy rich grace impart
Strength to my fainting heart
My zeal inspire!
As Thou hast died for me,
Oh, may my love to Thee
Pure, warm, and changeless be,
A living fire!
While life's dark maze I tread,
And griefs around me spread,
Be Thou my guide;
Bid darkness turn to day,
Wipe sorrow's tears away,
Nor let me ever stray
From Thee aside
When ends life's transient dream,
When death's cold, sullen stream
Shall o'er me roll;
Blest Savior, then in love
Fear and distrust remove;
Oh, bear me safe above,
A ransomed soul!
That all for Open Heaven 2 May 2018 Tuesday, do consider to bookmark this site for your Open heavens daily devotionals and also if you missed yesterday Devotional click to read Open Heaven 1 May 2018 Monday and may the God of Abraham, Isaac and Jacob continue to keep us all. God bless you. Open Heaven 2nd May 2018 Tuesday. Please comment and share what you have learnt, you might be a blessing to others.