THURSDAY 8TH February 2018 RCCG Fasting DAY 29
HELP FROM ABOVE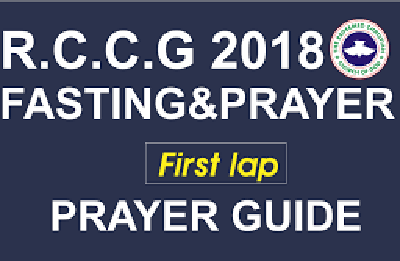 These are the prayer points from our Daddy Pastor E.A Adeboye concerning the 2018 Prayer and fasting for 2018 the first lap (Day 29). Lets all be watchful and prayerful, You need to pray to the Lord and He will hear our cry.
PRAYER OF VICTORY THROUGH GOD'S HELP; Text: Exo.17:8-16; Ps.121:1-2; Rev.3:2; John 7:37; Ps. 23:1, 6;
Father!!! Don't let me loose my focus of you

Father!!! I lift up my eyes unto you, don't let me be put to shame

O Lords!!! Rescue me from liars and deceitful people

Father!!! Hold me with your victorious right hand and strengthen me

Holy Ghost!!! Scatter in pieces with your sharp arrows and burn the deceptive tongue with your glowing coal of fire

King of glory, continue to be 'I'm for me and my household

Almighty God, make me a new threshing instruments with many sharp teeth to tear apart every enemy of my life and your church.

Father!!! Let every blockages to my helpers be broken into pieces in Jesus name

Father!!! Please don't let your glory depart from my life in Jesus name.
Have you read the Open Heavens for Today? ==> Click here to Read Open Heavens 8 February 2018 Thursday
Did You Also Read Open Heavens of Yesterday? ==>Click here to Read Open Heavens 7 February 2018 Wednesday