OPEN HEAVENS 2017
VICTORY THROUGH PRAISE – Wednesday February 22nd 2017
Memorise: For the weapons of our warfare are not carnal, but mighty through God to the pulling down of strong holds; 2nd Corinthians 10:4
Read: 2nd Chronicles 20:21-26 (KJV)
21 And when he had consulted with the people, he appointed singers unto the Lord, and that should praise the beauty of holiness, as they went out before the army, and to say, Praise the Lord; for his mercy endureth for ever.

22 And when they began to sing and to praise, the Lord set ambushments against the children of Ammon, Moab, and mount Seir, which were come against Judah; and they were smitten.

23 For the children of Ammon and Moab stood up against the inhabitants of mount Seir, utterly to slay and destroy them: and when they had made an end of the inhabitants of Seir, every one helped to destroy another.

24 And when Judah came toward the watch tower in the wilderness, they looked unto the multitude, and, behold, they were dead bodies fallen to the earth, and none escaped.

25 And when Jehoshaphat and his people came to take away the spoil of them, they found among them in abundance both riches with the dead bodies, and precious jewels, which they stripped off for themselves, more than they could carry away: and they were three days in gathering of the spoil, it was so much.

26 And on the fourth day they assembled themselves in the valley of Berachah; for there they blessed the Lord: therefore the name of the same place was called, The valley of Berachah, unto this day.
Bible in one year: Genesis 9-11, Isaiah 43:1-15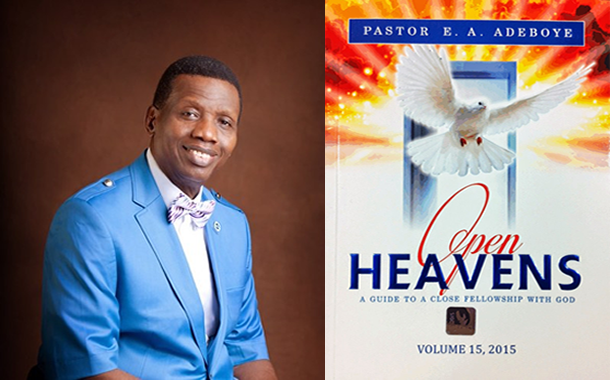 MESSAGE
The easiest way to access victory in the kingdom of God is through praise. Each time we praise the Name of the Lord, great and marvellous things are bound to happen. If you are a believer and you do not yet know the essence of praise, you are missing a lot of blessings, opportunities and privileges. Our God is all-powerful, all-knowing and is the Almighty. The moment we are committed to the realm of prise, things begin to happen at His command. There are people who have been knocking on certain doors of opportunities before now, but to no avail. Why don't you try praise? You will be surprised at how fast those doors will open. The fact that you are praising the One that is higher than the highest should give you the assurance that your case is settled. Praise to God is an indication of absolute trust in Him. Those who put their confidence in God will always praise Him until they receive their victory, and even after receiving their victory, they still praise Him. It is the desire of the Almighty God that all His children should move from one level of victory to the other. When the people of God praise Him, infirmities, yokes, bondage, barrenness and all the works of the devil are destroyed. In the realm of praise, every limitation gives way.
In the battle of life, some are victors while some are victims. I decree into your life that you will continue to enjoy the victory of the Lord in Jesus' Name. Victors know how to move God into action. God is looking for people who can move Him through their praise. Open Heavens Devotional 2017 Wednesday 22 February 2017:- Victory through praise. Such people will enjoy His mercy instead of receiving His judgement. Praise is the most powerful instrument we can use to move God. The whole of creation was designed to praise God (Psalm 150:5, Psalm 148). The greatest assignment of angels in Heaven is praising God (Revelations 4:8-9, Psalm 148:2). When we get to heaven, our assignment will be to keep praising God (Revelations 7:14-15, Psalm 145:2). Praise has greater impact whenever we come together to offer it to God, because His throne is set wherever His people are praising Him (Psalm 22:3).
When you bow before God in praise, you are showing that He alone is the Most High. Jehoshaphat enjoyed the victory of the Lord without fighting a battle! This is what praise can do. Open heaven 2017. While the enemies were gathering their mercenaries and weapons of war against Judah, the people of God gathered momentum for praise. They believed in the victory of the Lord by faith, and all their enemies were smitten before them. From today, as you praise the Lord, He will stand in your place and take over every battle of your life, and your victory shall be total in Jesus' Name.
Prayer Point
Father, let Your praise never cease from my lips.
Wednesday 22 February 2017, Open Heaven Daily Devotional, written by Pastor E.A Adeboye