FRIDAY 9 February 2018 RCCG Fasting DAY 30
PRAYERS FOR PEACE OF JERUSALEM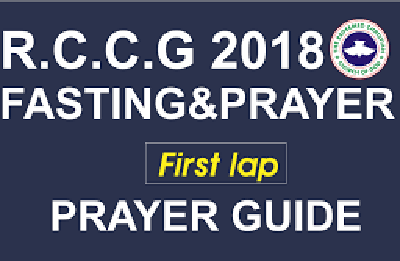 hese are the prayer points from our Daddy Pastor E.A Adeboye concerning the 2018 Prayer and fasting for 2018 the first lap (Day 30). Lets all be watchful and prayerful, You need to pray to the Lord and He will hear our cry.
PRAYER FOR NIGERIA: II Chro. 7:14, Psalm 122:6
Let us thank God for the Unity of Nigeria and the place that is reigning in Nigeria now. Josh 11:23, Psalm 124

Let us thank God for the Men of honour inspire by the Holy Spirit to move Nigeria forward continually by praying Ps. 37:37, Ps. 125:1-3.

Let us plead for mercy on behalf of our nation for atrocities and wickedness committed in the land.

Pray that the blood of Jesus will speak healing for our nation. Exo. 12:13

Let us speaks destruction unto every evil alter raise and serviced constantly anywhere in Nigeria to perpetuate human rituals, suicide bombing, targeted bombing and all other forms of killing

Let God arise in Nigeria and lets his entire enemy be scattered. Ps. 68:1-2

God will hear our prayer and recovered our nation from recession and all forms of famine.

God to heal our land and give rain of abundance in our land. 2 Kings 7:1-8

God to put an end to terrorism, kidnapping, hired killing, corruption, militancy, communal clashes,

Farmers and herdsmen clashes in the land.
Have you read the Open Heavens for Today? ==> Click here to Read Open Heavens 9 February 2018 Friday
Did You Also Read Open Heavens of Yesterday? ==>Click here to Read Open Heavens 8 February 2018 Thursday