OPEN HEAVENS 2017
WHAT'S YOUR RESPONSE? – Friday July 7th 2017
Memorise: And it came to pass afterward, that David's heart smote him, because he had cut off Saul's skirt. 1st Samuel 24:5
Read: 2nd Samuel 12:7-13 (King James Version)
7 And Nathan said to David, Thou art the man. Thus saith the Lord God of Israel, I anointed thee king over Israel, and I delivered thee out of the hand of Saul;

8 And I gave thee thy master's house, and thy master's wives into thy bosom, and gave thee the house of Israel and of Judah; and if that had been too little, I would moreover have given unto thee such and such things.

9 Wherefore hast thou despised the commandment of the Lord, to do evil in his sight? thou hast killed Uriah the Hittite with the sword, and hast taken his wife to be thy wife, and hast slain him with the sword of the children of Ammon.

10 Now therefore the sword shall never depart from thine house; because thou hast despised me, and hast taken the wife of Uriah the Hittite to be thy wife.

11 Thus saith the Lord, Behold, I will raise up evil against thee out of thine own house, and I will take thy wives before thine eyes, and give them unto thy neighbour, and he shall lie with thy wives in the sight of this sun.

12 For thou didst it secretly: but I will do this thing before all Israel, and before the sun.

13 And David said unto Nathan, I have sinned against the Lord. And Nathan said unto David, The Lord also hath put away thy sin; thou shalt not die.
Bible in one year: 1st Samuel 18-19, Ezekiel 2:8-3:15, Hymn: Sing hymn 6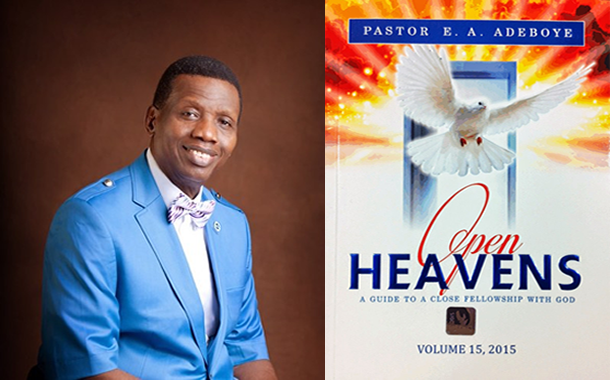 MESSAGE (Friday July 7th 2017)
One day, after being on the run for his dear life for quite some time, David finally had the chance to kill King Saul, his persecutor (1st Samuel 24:2-6). However, instead of doing this, he chose to simply cut off a part of Saul's robe, to show that he harboured no ill feelings towards the king. Nevertheless, after carrying out this seemingly magnanimous act, his conscience pricked him. 1st Samuel 24:5 says,
"And it came to pass afterward, that David's heart smote him, because he had cut off Saul's skirt."
His heart asked him, "David, what have you done? Have you forgotten it is written, "Touch not my anointed?" He immediately lost his peace. That is the response of a true sheep belonging to the Great Shepherd. In addition to finding it easy to obey, a sheep that strays from the fold of the Great Shepherd will have his or her heart smitten. Open Heavens 7 July 2017: Friday daily devotional by Pastor E. A. Adeboye- What's Your Response?  On the other hand, goats are hard-hearted. Are you a sheep or a goat? How many times have you spoken against the anointed of God without feeling any remorse? You mean you can sit down and discuss an anointed man of God for hours, pulling him apart and highlighting what you call his faults, forgetting that it's only before his Maker that he stands or falls? Is your conscience dead or alive? The conscience of a goat is dead but that of a sheep is alive.
In today's Bible reading, when Prophet Nathan visited David and narrated to him the story of a rich man with many sheep, who used his poor neighbour's only lamb to entertain his visitors, David was furious. He declared that whoever carried out his act must die. Then the prophet looked at him and said, "You are the man!" Remember that Nathan was talking to the king of the land. If you expose a goat, he or she will be angry and pounce on you. If David had been a goat, immediately he was confronted with his sin, he would have ordered his guards to cut off the prophet's head. If he wanted to be subtle, he could lure the prophet to attend a private dinner for them to discuss the matter further, where his wine would have been poisoned. However, what did David do? He said, "I am finished!", and he began to confess his sins. What is your attitude when God's word hits you? Do you say, "This pastor is preaching about me again? I wonder who reports me to him!" Is your attitude the type that says, "Preacher, mind your own business?" How often have you broken down to weep over your atrocities? How many times have you cried to God for mercy, not caring about those people who are around you? Are you a goat or a sheep?
Key Point (Friday July 7th 2017)
If you are a sheep, it will show in your response to the conviction of the Holy Spirit.