Open Heaven 3 October 2022 MEMORISE: Why art thou cast down, O my soul? and why art thou disquieted within me? hope thou in God; for I shall yet praise him, who is the health of my countenance, and my God. Psalm 42:11
READ: 2 Corinthians 1:3-5 Open Heaven 3 October 2022
3 Blessed be God, even the Father of our Lord Jesus Christ, the Father of mercies, and the God of all comfort;

4 Who comforteth us in all our tribulation, that we may be able to comfort them which are in any trouble, by the comfort wherewith we ourselves are comforted of God.

5 For as the sufferings of Christ abound in us, so our consolation also aboundeth by Christ.
BIBLE IN ONE YEAR: Nahum 3 – Habakkuk 3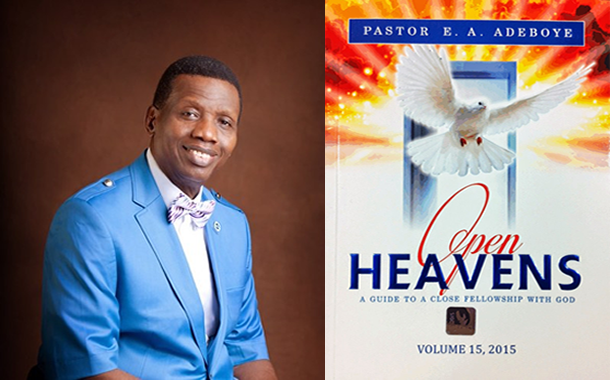 MESSAGE: – Open Heaven 3 October 2022 Monday Daily Devotional
Another operation of the devil is what is called depression. Depression is not just sadness. The word 'depress' can be simply described as 'to push down'. When someone is depressed, he won't be able to pull himself together to do anything. The devil makes a person depressed by manipulating the fellow's perspective of things. He continually whispers lies into the fellow's ears to make them see the situation as bigger and worse than it actually is.
If however, you let God show you the path of life, you will always experience fullness of joy in His presence Psalm 16:11. The best solution to depression is hearing the voice of God. When the devil starts making you feel depressed, get into God's presence and don't leave until you hear His voice. Psalm 119:130 says the entrance of His word brings light. As His word enters your spirit, it sheds light on that thing that the devil was using to press you down. You suddenly see that what you called a mountain was just a stepping-stone. Read your Bible and begin to pray in the Spirit. Soon, you will begin to feel a kind of joy that cannot be explained.
God's presence also brings rest from all troubles. Exodus 33:14 says;
And he said, My presence shall go with thee, and I will give thee rest. God Himself is calling on you to seek His face when you are troubled. He is yearning for fellowship with you. When you don't have fellowship with God, the devil gets the opportunity to press you down with his own voice. Your confession must be like that of the Psalmist in Psalm 27:8;
When thou saidst, Seek ye my face; my heart said unto thee, Thy face, LORD, will I seek.
In Jeremiah 29:13, God says you will seek Him and find Him when you seek Him with all your heart. As you surrender to seeking God with all your heart from today, depression is banished from your life in Jesus' name.
Prayer Points: – Open Heaven 3 October 2022
Father, drown every voice of the devil in my ears and amplify Your voice in my heart, in Jesus' name.
Open Heaven 3 October 2022 Monday Hymn
HYMN: SWEET HOUR OF PRAYER
1 Sweet hour of prayer! sweet hour of prayer!
that calls me from a world of care,
and bids me at my Father's throne
make all my wants and wishes known.
In seasons of distress and grief,
my soul has often found relief,
and oft escaped the tempter's snare
by thy return, sweet hour of prayer!
2. Sweet hour of prayer! sweet hour of prayer!
the joys I feel, the bliss I share
of those whose anxious spirits
burn with strong desires for thy return!
With such I hasten to the place
where God my Savior shows his face,
and gladly take my station there,
and wait for thee, sweet hour of prayer!
3. Sweet hour of prayer! sweet hour of prayer!
thy wings shall my petition bear
to him whose truth and faithfulness
engage the waiting soul to bless.
And since he bids me seek his face,
believe his word, and trust his grace,
I'll cast on him my every care,
and wait for thee, sweet hour of prayer!