Open Heaven 31 October 2020 Memorise: And he that doubteth is damned if he eat, because he eateth not of faith: for whatsoever is not of faith is sin. Romans 14:23
Read: James 1:5-8 Open Heaven 31 October 2020
5 If any of you lack wisdom, let him ask of God, that giveth to all men liberally, and upbraideth not; and it shall be given him.

6 But let him ask in faith, nothing wavering. For he that wavereth is like a wave of the sea driven with the wind and tossed.

7 For let not that man think that he shall receive any thing of the Lord.

8 A double minded man is unstable in all his ways.
Open Heaven 31 October 2020
Bible in one year: Matthew 19, Mark 10
Hymnal: Sing hymn 13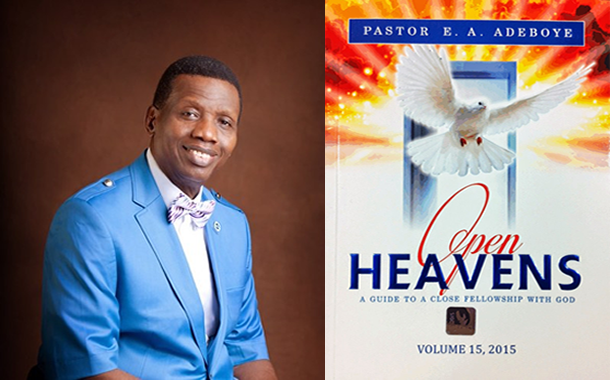 Message:- Open Heaven 31 October 2020 Saturday Daily Devotional
Faith is the bedrock of Christianity. Hebrews 11:6 says:
"But without faith it is impossible to please him: for he that cometh of God must believe that He is, and that He is a rewarder of them that diligently seek Him."
In Romans 10:9, we see the steps to salvation:
"That if thou shalt confess with thy mouth the Lord Jesus, and shalt believe in thine heart that God hath raised him from the dead, thou shalt be saved."
Faith is the most important ingredient in the Christian walk. That's why Paul said anything done outside faith is a sin (Romans 14:23). You may doubt if an action is a sin or not. You may have asked some spiritual leaders, yet still remain unsure. Today's memory verse says once you are unsure if an action would amount to a sin or not, then you should choose not to do it. It say anything you do in doubt and not in faith is sin.
Open Heaven 31 October 2020 Saturday
As a Christian, it is best to stay off that act that you are not sure about and let go of the benefit you may receive from it. It is better to deny yourself of earthly benefits than finding out at the judgement seat that such an act is a sin. That you have conflicting opinions alone is probably an indication that God wants you to beware of doing that thing.
There has been a lot of debate on whether wearing trouser or jewelry is a sin or not. Beloved sister, if God has instructed you not wear trousers for example, (maybe through your church doctrine, your parents or personally) and you go ahead to wear it, you are not doing it in faith because there will be that caution in your heart that you shouldn't be wearing trousers; hence you are committing sin.
Be wise; if there is a conflict in your heart concerning anything, it is best to stop and steer clear of such. Only do things when you are sure they are not sins.
Key Point – Open Heaven 31 October 2020
Anything you do in doubt is a sin.
That all for Open Heaven 31 October 2020 Saturday, do consider to bookmark this site for your Open heavens daily devotionals and also if you missed yesterday Devotional click to read Open Heaven 30 October 2020 Friday and may the God of Abraham, Isaac and Jacob continue to keep us all. God bless you.  Open Heaven 31 October 2020 Saturday. Please comment and share what you have learnt, you might be a blessing to others.