Open Heaven 6 October 2020 Memorise: Wherefore the Lord God of Israel saith, I said indeed that thy house, and the house of thy father, should walk before me forever; but now the Lord saith, Be it far from me;  for them that honour me I will honour, and they that despise me shall be lightly esteemed. 1st Samuel 2:30
Read: 1st Samuel 2:27-36 Open Heaven 6 October 2020
27 There came a man of God unto Eli, and said unto him, Thus saith the Lord, Did I plainly appear unto the house of thy father, when they were in Egypt in Pharaoh's house?

28 And did I choose him out of all the tribes of Israel to be my priest, to offer upon mine altar, to burn incense, to wear an ephod before me? And did I give unto the house of thy father all the offerings made by fire of the children of Israel?

29 Wherefore kick ye at my sacrifice and at mine offering, which I have commanded in my habitation; and honourest thy sons above me, to make yourselves fat with the chiefest of all the offerings of Israel my people?

30 Wherefore the Lord God of Israel saith, I said indeed that thy house, and the house of thy father, should walk before me forever: but now the Lord saith, be it far from me; for them that honour me I will honour, and they that despise me shall be lightly esteemed.

31 Behold, the days come, that I will cut off thine arm, and the arm of thy father's house, that there shall not be an old man in thine house.

32 And thou shalt see an enemy in my habitation, in all the wealth which God shall give Israel: and there shall not be an old man in thine house for ever.

33 And the man of thine, whom I shall not cut off from mine altar, shall be to consume thine eyes, and to grieve thine heart: and all the increase of thine house shall die in the flower of their age.

34 And this shall be a sign unto thee, that shall come upon thy two sons, on Hophni and Phinehas; in one day they shall die both of them.

35 And I will raise me up a faithful priest, that shall do according to that which is in mine heart and in my mind: and I will build him a sure house; and he shall walk before mine anointed forever.

36 And it shall come to pass, that every one that is left in thine house shall come and crouch to him for a piece of silver and a morsel of bread, and shall say, Put me, I pray thee, into one of the priests' offices, that I may eat a piece of bread.
Open Heaven 6 October 2020
Bible in one year: Mark 2
Hymnal: Sing hymn 8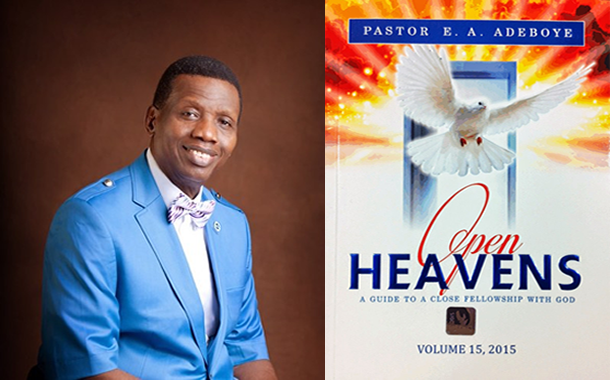 Message: – Open Heaven 6 October 2020 Tuesday Daily Devotional
As evident in today's Bible reading, when we go contrary to the will of God. He could decide not to fulfil His promises. I have always known God's promises to me and my Father-in-the-Lord concerning the RCCG, yet, I did not just relax believing that regardless of what I do, He will fulfil it. Has God made any promises to you? That doesn't give you the liberty to misbehave. If you offend Him, He can still change His mind.
In the Bible, Samuel is one person who had seen God change His mind severally. First, as a child, He witnessed how God rejected Eli, destroying his family and legacy in one night. He also saw how God rejected Saul after having chosen him by Himself. He saw how God chose a small boy to be king and tormented Saul even while still on the throne. This made Samuel, in wisdom, decide never to offend God. His solid reputation is evident in his speech to the Israelites in 1st Samuel 12:3-4:
Open Heaven 6 October 2020 Tuesday
"Behold, here I am: witness against me before the Lord, and before his anointed: whose ox have I taken? Or whose ass have I taken? or whom have I defrauded? Whom have I oppressed? or of whose hand have I received any bribe to blind mine eyes therewith? and I will restore it you. And they said, Thou hast not defrauded us, nor oppressed us, neither hast thou taken ought of any man's hand."
Samuel knew that if God changes His mind about blessing anyone, the end of such would be worse than ever so he refrained from displeasing God. Samson however, failed to play his play his part so he lost out on God's promises over his life.
I plead with you today, if you are sure about God's promises for you and His great plan for your life, do everything possible to avoid offending Him. Indeed, ears have not heard and eyes have not seen the greatness of God's plan for those who love Him (1st Corinthians 2:9). Don't miss out on this.
Prayer point – Open Heaven 6 October 2020
Ask for God's mercy and forgiveness in any area you might have offended Him. Commit to pleasing Him always and His promises over you would be fulfilled.
That all for Open Heaven 6 October 2020 Tuesday, do consider to bookmark this site for your Open heavens daily devotionals and also if you missed yesterday Devotional click to read Open Heaven 5 October 2020 Monday and may the God of Abraham, Isaac and Jacob continue to keep us all. God bless you.  Open Heaven 6 October 2020 Tuesday. Please comment and share what you have learnt, you might be a blessing to others.