Open Heaven 8 March 2023 Memorize: And he answered and spake unto those that stood before him, saying, Take away the filthy garments from him. And unto him he said, Behold, I have caused thine iniquity to pass from thee, and I will clothe thee with change of raiment. Zechariah 3:4
Bible Reading: Matthew 22:9-13 Open Heaven 8 March 2023
9 Go ye therefore into the highways, and as many as ye shall find, bid to the marriage.

10 So those servants went out into the highways, and gathered together all as many as they found, both bad and good: and the wedding was furnished with guests.

11 And when the king came in to see the guests, he saw there a man which had not on a wedding garment:

12 And he saith unto him, Friend, how camest thou in hither not having a wedding garment? And he was speechless.

13 Then said the king to the servants, Bind him hand and foot, and take him away, and cast him into outer darkness, there shall be weeping and gnashing of teeth.
Open Heaven 8 March 2023
Bible Reading In One Year: Joshua 11-13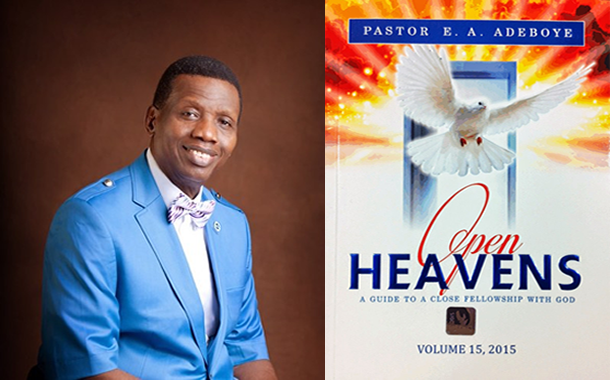 MESSAGE: – Open Heaven 8 March 2023 Wednesday Daily Devotional
What you wear matters. While it is true that God says in (1 Samuel 16:7) that He looks at the heart, it is also true that what is inside you can reflect on the outside. The way harlots would dress should be different from the way a child of God does.
In order to buttress this point to my Bible College students one day, I bought two oranges of the same size – one yellow, the other green. I stood before the class and asked them to indicate which they would prefer to have. They all chose the yellow one, because, according to them, it was the ripe one and so would be sweet. I asked how they knew and they replied: "The outside shows". That's the point I'm trying to make.
What you wear really matters. In Matthew 22:1-14, a king went through the crowd of guests at his son's wedding and saw a man who wasn't wearing clothes suitable for a wedding and so commanded that the man be kicked out. I was talking to a relative who was always dressing like people of the world. I said, "You belong to a special family. The enemies are looking at us; if they want to attack, they will look for someone who is among us but different from us. You're the only one standing out. If they decide to attack, they will find it easy to pick on you".That changed the person's mind completely.
Finally, you remember the story of Blind Bartimaeus in Mark 10:46-52. When he was told that Jesus was calling on him, the first thing he did was throw away his garment. He was saying, in essence, "I will never dress like a beggar again; I'm not going to beg again, I'm not going to be in sorrow again,
I'm not going to be in darkness again. "When you give your life to Jesus Christ, there should be a change of garments.
In Mark 5:25-34, the woman with the issue of blood said, "I just want to touch the hem of his garment". The clothes Jesus was wearing was the conduit for the anointing that healed her. Acts 19:11-12 tells us that handkerchiefs and aprons were taken from the body of Paul to effect healing and deliverance. Your dressing is important and should glorify God always.
Key Point: – Open Heaven 8 March 2023
The spirit of Christ in you should be reflected even in your dressing.
Open Heaven 8 March 2023 Wednesday Hymn
Hymn 11: I've Found A Friend In Jesus
1 I've found a friend in Jesus,
He's everything to me,
He's the fairest of ten thousand to my soul;
The Lily of the valley, in Him alone I see
All I need to cleanse and make me fully whole.
In sorrow He's my comfort, in trouble He's my stay,
He tells me every care on Him to roll:
(Halleluyah)
Chorus:
He's the Lily of the Valley, the Bright and Morning Star,
He's the fairest of ten thousand to my soul.
2 He all my griefs has taken, and all my sorrows borne;
In temptation He's my strong and mighty tower;
I've all for Him forsaken, and all my idols torn
From my heart, and now He keeps me by His power.
Though all the world forsake me, and Satan tempt me sore,
Through Jesus I shall safely reach the goal:
(Halleluyah)
[Chorus]
3 He'll never, never leave me, nor yet forsake me here,
While I live by faith and do His blessed will;
A wall of fire about me, I've nothing now to fear,
With His manna He my hungry soul shall fill.
Then sweeping up to glory to see His blessed face,
Where rivers of delight shall ever roll:
(Halleluyah)
[Chorus]