Open Heaven 8 September 2021 Memorize: And the LORD God called unto Adam, and said unto him, Where art thou? GENESIS 3:9
READ: 2 CORINTHIANS 13:5-8
5. Examine yourselves, whether ye be in the faith; prove your own selves. Know ye, not your own selves, how that Jesus Christ is in you, except ye be reprobates?

6. But I trust that ye shall know that we are not reprobates.

7. Now I pray to God that ye do no evil; not that we should appear approved, but that ye should do that which is honest, though we be as reprobates.

8. For we can do nothing against the truth, but for the truth.
Bible In One Year: LUKE 3:1-38, LUKE 4:1-44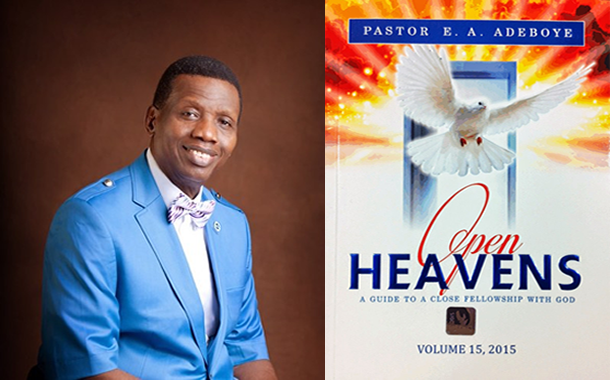 MESSAGE: – Open Heaven 8 September 2021 Wednesday Daily Devotional
I am convinced that the question God asked of Adam long ago Where art thou? (Genesis 3:9.) is as relevant today as it was then. It is not a question that an individual should wait for God to ask him or her, but rather one that each person should ask him or herself at any given time. A sincere approach to answering this question would do one a world of good, both in this life and eternity. From the day a person is born, the fellow begins a return journey to where he or she is from (Ecclesiastes 12:1-7).
That is why people normally ask How old are you? and not How young are you? No matter how young you are, you are growing older every day. Hence, God, Himself asks where you are now. You should ask yourself the same question regularly. Ask yourself How far have I gone in fulfilling the purpose of my life and salvation?.
To answer this serious question, you need to first of all answer some of the following: Where was I yesterday and where am I today? Am I increasing spiritually or decreasing?, Am I increasing financially or decreasing? The truth is that it is the will of God that His children should have all-around prosperity. Are you really bearing fruit? Your assessment of where you were in the past and now will tell you whether you are really serving the purpose of your existence. This is very important.
Since you gave your life to Christ, how many souls have you won for Him?, Since you gave your life to Christ, what is the level of your growth in the service of the Lord?. It is unfortunate that some people gave their lives to Christ some ten, fifteen years ago yet remain benchwarmers while some who came in three, four years ago have become pastors and Church leaders, flourishing in one ministry gift or another.
God has also planned that we should prosper financially and materially. If you are not prospering financially and materially, could it be that you have been hiding from your Creator, the Redeemer of lost destinies? Could it mean that your sins have not been forgiven because you have not genuinely repented of them?
Could it mean that you have not been obedient to the word of God?, Could it be that you have been hypocritical about your Christian walk?
You can experience a great turnaround today. Jesus is calling Son of man, where are you? I expect if you have not yet positively responded to this call, that you would say Here I am Lord. God bless you as you do so, in Jesus name.
Prayer Point: – Open Heaven 8 September 2021
Do a self-evaluation and cry to God according to your findings.
Open Heaven 7 September 2021 Wednesday
HYMN: WHAT A FRIEND WE HAVE IN JESUS
1. What a Friend we have in Jesus,
All our sins and griefs to bear!
What a privilege to carry
Ev'rything to God in prayer!
Oh, what peace we often forfeit,
Oh, what needless pain we bear-
All because we do not carry
Ev'rything to God in prayer!
2. Have we trials and temptations?
Is there trouble anywhere?
We should never be discouraged,
Take it to the Lord in prayer.
Can we find a Friend so faithful
Who will all our sorrows share?
Jesus knows our ev'ry weakness,
Take it to the Lord in prayer.
3. Are we weak and heavy laden,
Cumbered with a load of care?
Precious Saviour, still our refuge,
Take it to the Lord in prayer.
Do thy friends despise, forsake thee?
Take it to the Lord in prayer.
In His arms, He'll take and shield thee,
Thou wilt find a solace there.