OPEN HEAVENS 2017
OBEDIENCE AND MIRACLES – Thursday March 16th 2017
Memorise: His mother saith unto the servants, whatsoever he saith unto you, do it. John 2:5
Read: John 2:1-12 (KJV)
1 And the third day there was a marriage in Cana of Galilee; and the mother of Jesus was there:

2 And both Jesus was called, and his disciples, to the marriage.

3 And when they wanted wine, the mother of Jesus saith unto him, They have no wine.

4 Jesus saith unto her, Woman, what have I to do with thee? mine hour is not yet come.

5 His mother saith unto the servants, Whatsoever he saith unto you, do it.

6 And there were set there six waterpots of stone, after the manner of the purifying of the Jews, containing two or three firkins apiece.

7 Jesus saith unto them, Fill the waterpots with water. And they filled them up to the brim.

8 And he saith unto them, Draw out now, and bear unto the governor of the feast. And they bare it.

9 When the ruler of the feast had tasted the water that was made wine, and knew not whence it was: (but the servants which drew the water knew;) the governor of the feast called the bridegroom,

10 And saith unto him, Every man at the beginning doth set forth good wine; and when men have well drunk, then that which is worse: but thou hast kept the good wine until now.

11 This beginning of miracles did Jesus in Cana of Galilee, and manifested forth his glory; and his disciples believed on him.

12 After this he went down to Capernaum, he, and his mother, and his brethren, and his disciples: and they continued there not many days.
Bible in one year: Exodus 9-10, Isaiah 61, Hymn: sing hymn 7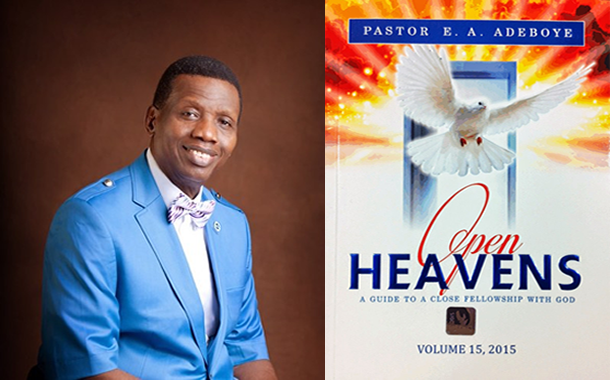 MESSAGE
Besides sowing seeds, obedience is another key factor that can trigger a miraculous harvest in your life. May the Lord grant you grace to obey Him completely in Jesus' Name. To enter into this realm of the miraculous, all you need to receive is the divine directive, and immediately you comply with it, you will have your miracle. In our Bible reading, Jesus and His mother were invited to a wedding in Cana of Galilee. At some point, they ran out of wine. His mother came to tell Him of their need, but He simply said it was not yet time for a miracle. Pre-empting Jesus, maybe based on experience, Mary told the servants present to wait on Him, receive any instruction from Him and carry it out to the letter. Later, the Lord instructed them to fill up some water pots with water. The servants thought of arguing with Him that what was needed at the party was wine and not water, but remembering Mary's strict instructions to do whatever He asked them to do, they complied. Therefore, Jesus asked them to fetch some of the water and serve the chairman of the wedding feast. Again, they wanted to argue, but recalling what Mary said, they obeyed. They took it to the chairman but prepared a ready-made answer should he taste it and ask why they served him water. However, on their way, the water became wine.
One lesson from this story is that God searches for certain attributes in people before giving them their desired miracles. Open Heavens 16 March 2017:- Obedience and miracles. If you want a miracle, you must approach God in faith (Hebrews 11:6). Also, if there is no divine instruction or word from God backed up by total obedience from man, that miracle may never see the light of day. Before performing a miracle, God searches to see whether there is any word of His to honour by this miracle. In other words, if no prophetic word, word of revelation or promise of the Scripture is available concerning the situation, seeking for a miracle in such a case could lead to disappointment. No wonder the Psalmist in Psalm 138:2 said
"I will worship toward thy temple, and praise thy name for thy loving-kindness and for thy truth: for thou hast magnified thy word above all thy name.
In addition, if you truly desire a miracle, you must first crave to be acquainted with the God of miracles. Our God is a God of relationship. He is a Friend that sticks closer than a brother (Proverbs 18:24, John 15:15). He can sustain His relationship with you even to generations after you depart from the earth. Lastly, after God has given an instruction, nothing short of total compliance is required to trigger your miracle. To get a miracle, God has His part to play, and so do you. How well are you playing your part?
Prayer Point
Father, send me a word that will usher me into a miraculous harvest.
Thursday March 16th 2017, Open Heaven Daily Devotional, written by Pastor E.A Adeboye