OPEN HEAVENS 2017
GROW IN GIVING – Tuesday May 2nd 2017
Memorise: Give, and it shall be given unto you; good measure, pressed down, and shaken together, and running over, shall men give into your bossom. For with the same measure that ye mete withal it shall be measured to you again. Luke 6:38
Read: Luke 6:36-38 (King James Version)
36 Be ye therefore merciful, as your Father also is merciful.

37 Judge not, and ye shall not be judged: condemn not, and ye shall not be condemned: forgive, and ye shall be forgiven:

38 Give, and it shall be given unto you; good measure, pressed down, and shaken together, and running over, shall men give into your bosom. For with the same measure that ye mete withal it shall be measured to you again.
Bible in one year: Numbers 32:33, Jeremiah 24, Hymn: Sing hymn 10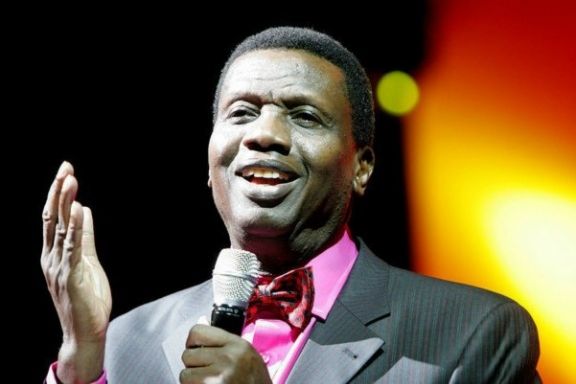 MESSAGE
God is interested in the prosperity of His children. Although He has made His resources available to us, it will take obedience and compliance with His principles to tap into them. To tap into the financial resources of Heaven, you must pay your tithes, give offerings and fulfil your pledges and vows. You must be ready to give, if you want something in return. A while ago, while preaching at a particular church, as I issued some prophetic decrees over the congregation, I noticed that their response of "Amen" was quite loud. Open Heavens Devotional 2017 Tuesday 2 May 2017:-Grow in giving.  Then I jokingly said one of them would buy me a new jet, and the loudness of their response nose-dived. Another time, I was in the same church and repeated what I said before; this time, their response was much louder. So I said to them, "You people are different." I perceived that their faith and understanding of giving had grown.
Proverbs 3:9-1-10 says if you can honour God with your first fruits, you will be dazed and amazed at what He would do in your life. It is one thing to have knowledge, and it is another thing to apply it. I once shared with some pastors that your teacher will never teach you all the knows, otherwise he wouldn't be a teacher; but your father will be willing to teach you all the knows, although he may reserve one or two till moments before his death. In other words, there are certain secrets that a person can only get from his or her father, and I would like to share one of those secrets that God has revealed to me with you. One day, while sitting quietly somewhere, God said to me, "Son, what kind of pastor would you like to be?" I replied, saying "Daddy, I am sorry I don't understand the question." He then further asked, "Do you want to be the best or worst, the greatest or least, the richest or poorest pastor?" I told Him I wanted to be the best, greatest and the richest pastor, and He went silent. At a Church programme not long after, the Lord asked again, "Son, what kind of pastor did you say you want to be?" I quickly replied, "The best, the greatest, and the richest," Then He asked me to give the highest denomination in my pocket. I reluctantly obeyed. Rccg Open Heavens 2017. At another meeting, He again asked me the type of pastor I wanted to be, and I responded as before, and He instructed me to double what I normally give as my offering. I easily complied this time around because things had started changing for me since I began to obey His instructions or giving. When I shared this testimony some years ago, someone told me he moved up to giving N10, 000 for every offering. I congratulated him and told him I was at that stage in 1998 but had since surpassed that. Although my giving was sacrificial initially because things were hard for me, I gave glory to God that things are no longer as hard. If you don't grow up in your giving, you may not be enlarged in your receiving.
Prayer Point
Father, raise more Christ-like leaders to mentor your people, and make me one of such.
Tuesday May 2nd 2017, Open Heaven Daily Devotional, written by Pastor E.A Adeboye